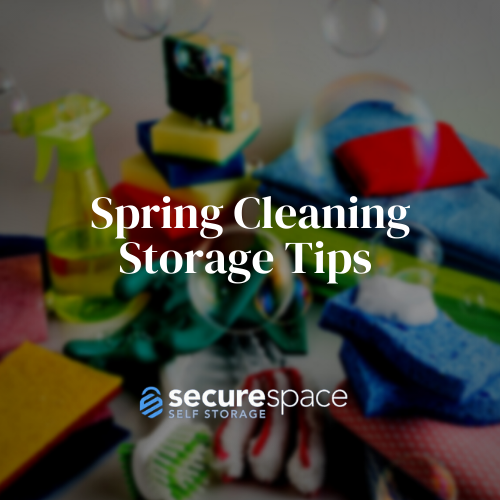 Spring is in the air and with it a renewed commitment to spruce up our homes. For most of us, longer days and warmer weather mean a chance to open the windows, clear the clutter, and make updates that we put on the back burner throughout the winter. If you're planning to deep clean for the season, now is the perfect time to start looking at storage units. Today, SecureSpace of West Carson, CA, offers tips on cleaning for the spring. 
Make a list. As with all major undertakings, your spring cleaning endeavors should begin with a list of things to do. Break this list down into major tasks, such as clearing out the garage and cleaning the windows, and smaller chores, like dusting the baseboards and wiping down the toilets. In most cases, it's best to start with the big stuff. By knowing what you have, you can better choose between storage units if you need a place to store your belongings while you handle other projects, like painting or refinishing hardwood floors.
Eliminate clutter. One of the very first things on your list should be to remove clutter. We all have excess furniture and belongings that get in the way during spring cleaning. Grab a few storage boxes for each room, and remove everything that's not essential to your life for the next few weeks. Label these boxes now to find what goes back in each room later.
Work from the top down. One of the oldest cleaning tricks in the book is working from the top down. This means to start cleaning your house from the corners of the ceiling down to the floor. By starting high and finishing low, you will be better able to clean up dirt and debris that falls and will be less likely to have to go over the same spot twice.
Pay attention to hidden spaces. How often do you clean behind your stove or under the bed? Probably not nearly enough, but now is the perfect time to take a swipe at these neglected areas.
Make repairs as you find problems. As you move throughout your house, you are likely to find (or rediscover) small issues, such as missing hardware, cracked tile, or popped nails. Add these to your list, and then take care of them as soon as possible.
Don't forget the outdoor spaces. If you already have one or more storage units, make sure to get your patio furniture and seasonal items back home and cleaned up for use come summer. While you're outdoors, take the time to pressure wash and get rid of things like wasp nests and spiderwebs.
Take the mattresses outside. Grab a tarp, and leave your bedding, mattresses, and other upholstered furniture outside for a day. This will help to air out any odors that have accumulated over the winter.
Pack up your seasonal clothing. As winter fades to summer, you are not going to need heavy coats and fur-lined boots for the next several months. Clear out the closets, grab a wardrobe box, and head to your nearest storage units, where you can leave the clutter behind and enjoy your home all year long.
Winter won't last forever, and now is the perfect time to get a jump on your spring cleaning. The above tips can help you make the most of your clearing-out efforts.

SecureSpace Self Storage W Carson is conveniently located on W 22th Street in Torrance and has units accessible from 6 AM to 10 PM seven days per week.