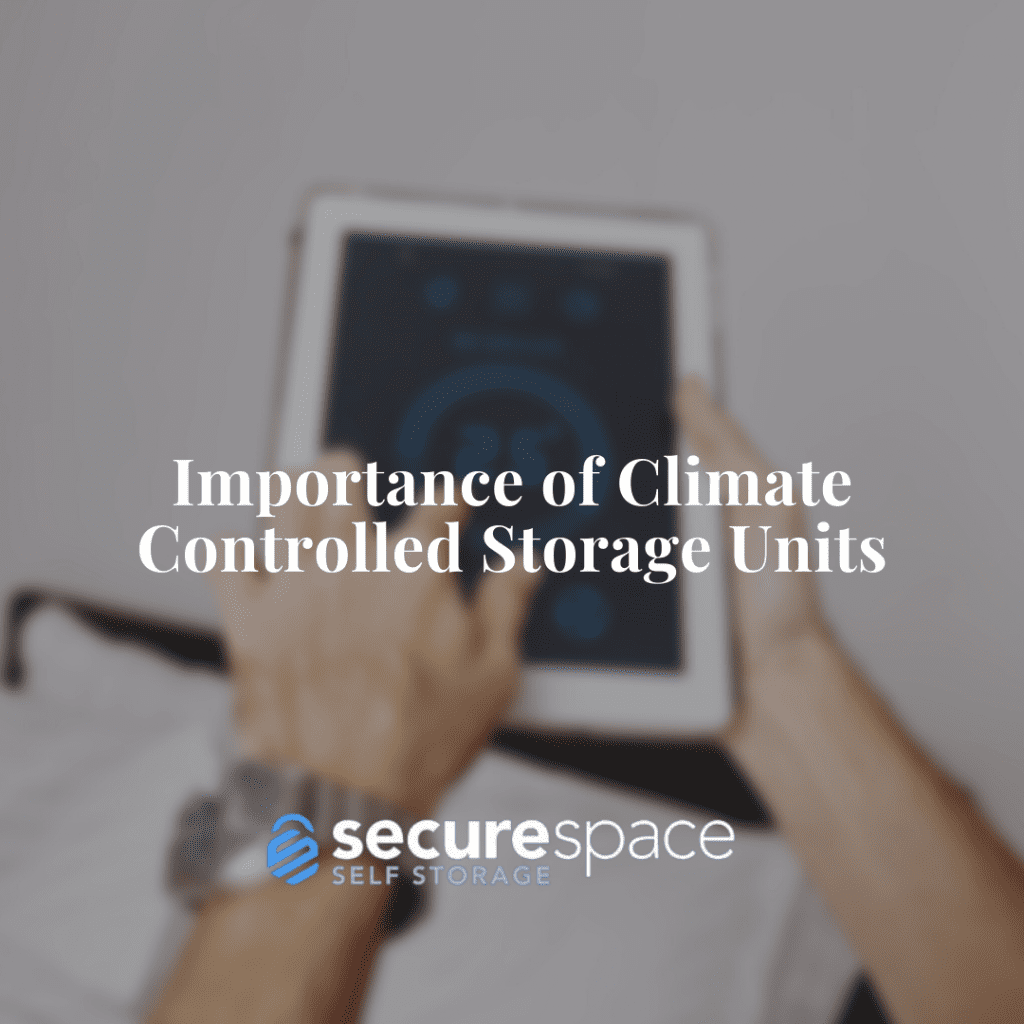 Are you considering a climate controlled Storage Unit? SecureSpace Self Storage can help.
Oftentimes, if something is out of sight, it's out of mind, but a lot can happen to your stuff when it sits in storage. Moisture build up, extreme temperatures, weather conditions, and pests are the most common storage problems. How do you make sure your valuables are protected? A climate controlled storage unit could be your solution.
Basic Self Storage Units Versus Climate Controlled Storage Units
Basic self-storage units are a great option for typical household and business items. If you're storing items that aren't valuable for a short period of time, a standard self-storage unit might be enough. However, humidity-sensitive items like furniture, collectibles, antiques, musical instruments, electronics, fine art, or books require maintained storage arrangements.
Climate-controlled storage units maintain a consistent temperature level all year round. While these are more expensive than the standard storage options, knowing that you are protecting your valuables in ideal conditions is priceless.
What Should Be Stored in a Climate Controlled Storage Unit?
If your item can warp or crack in extreme temperatures or humidity, it should go in a climate controlled space.
Here are some examples of items that you may want to consider storing:
Metal, leather, wood, fabric, and wicker furniture
Books and Documents
Musical Instruments
Vinyl Records
Electronics (computers, tvs, cameras)
Collectibles (art, wine, antiques)
Bedding, mattresses, and pillows
Medications or survival supplies
Benefits of climate-controlled storage units:
Climate-controlled storage units protect your belongings from extreme temperatures.
Are you storing anything that can discolor, crack, or warp in varying temperatures?
Temperatures can climb to above 100 degrees in the summer in some areas and drop below freezing point in the winter in others. This can damage valuables such as antiques, photographs, and works on paper. Joints loosen, wood warps, colors fade, paint detaches, metals tarnish, and rust.
Climate-controlled storage units maintain temperatures above freezing and below 80 or 90 degrees. Items that benefit from a climate-controlled environment include wood furniture, musical instruments, books and magazines, electronics, mattresses, vinyl records, upholstered furniture, and essential documents.
Climate-controlled units have excellent air quality.
Sealing in standard storage units is not the same way with climate-controlled storage units. Air continues to circulate inside climate-controlled storage facilities, which keeps the air clean. You won't have to worry about "airing out" your storage units regularly.
Items get an additional layer of protection from the elements.
Sealed and insulated buildings are usually the location of climate-controlled storage units. These units are less susceptible to damage caused by flooding, debris, rodents, or insects. You'll find items just the way you left them a week, a year, or a decade ago.
You'll get peace of mind.
Climate-controlled storage might be more expensive, but this is usually overshadowed by the peace of mind knowing that your belongings are secure and are in excellent shape.
There are humidity-regulating climate-controlled storage units for added safety.
Climate-controlled storage units with humidity regulation features usually keep the base humidity at around 55% by manually removing excess moisture from the air. For comparison, an average air conditioned home is around 40% humidity. Too much humidity can promote mildew growth. Not having enough moisture in the air can also be a problem as materials like wood, dry out, craze, and splinter.
Do You Need A Climate Controlled Storage Unit?
People often think that when it comes to storing their belongings, any regular storage unit will do. Unfortunately, extreme temperatures can wreak havoc on sensitive items. The good news is SecureSpace Self Storage offers premium but cost-effective climate-controlled storage units. 
Not sure what size you need? We'll help you find the right size storage unit so you'll get the most for your money. View the size calculator. 
SecureSpace offers secure, climate-controlled storage units for all your prized possessions. We also offer self-storage, business storage, and vehicle storage units with various features and sizes. Visit our website to learn more. Reserve your storage unit at any of our locations online today, or call our team at 1-877-693-6223 for more details.